This post appeared previously at Indies Unlimited.com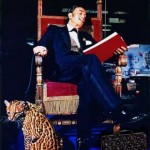 The first writer's blog that I read was written by the woman who would end up editing my first novel. In a particularly excellent post, she discussed at length the need to layer your characters – to give them strengths and weaknesses, good and evil motivations, and to otherwise make them as believably flawed as any human you might know. Annoying habits and pet peeves add depth, she postulated, and these idiosyncratic traits will make the character more believable. I've kept this post in my head as I develop my characters, and I've created a couple of doozies. In true Lois fashion, however, I would like to add a stylish twist to my mentor's essay – when you want to give your reader a real clue as to what makes your character tick, give the character a pet.
Does the male character have a snake? If he's selling real estate in Manhattan and is a bachelor, he either is trying too hard to be cool, or is underendowed.  Does the woman have a little doggy she carries about in a designer handbag worth more than your car?  She must be incredibly wealthy and chic, hysterically funny, or she desperately needs a date. Maybe, all three attributes apply.
How about exotic animals? Does the protagonist keep llamas on his sprawling ranch in Montana? That seems manly enough. But put that same llama in a backyard in Jersey City, N.J. and you have a great starting point for eccentricity.  Dress it up, and if PETA doesn't get involved, you may be nominated for a Pulitzer.
In my first novel, I introduced Wickersham Betancourt III. His manipulative nature is used to highlight similar qualities in his master. After all, chewing a Prada loafer only to drop it on the bed of another dog is a creatively devious way to insure that you alone will accompany the master to Miranda's house for her 80th birthday party. Wickersham goes where he wants, does what he wants, and eats a box of Belgian chocolate and lives.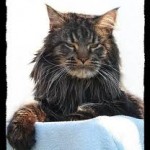 Jackson says, "You wish you were me."
I myself am the proud owner of a Maine Coon cat who gives new meaning to neurotic and senile. At 18 years old she has decided to exercise her right, her geriatric whims, to poop, or not, in her litter box. The choice of her daily spot is fodder for family conversation. Who did she wish to disrespect by pooping under the piano? Why me, of course. Who was her intended victim as the latest load was deposited on the multi-colored carpet on the way to the garage? If her daddy is not wary he might be stepping in it.
Why does Spunky express her displeasure in this way? Simply put, she can't speak. So the fact that she wanted Tuna and Egg instead of Ocean Feast results in a strategically placed poop bomb. She can't complain about her aches and pains, or lament that her coat is no longer as full as in her youth. When she's pissed, she flings poo.
What Spunky hasn't realized is that her antics are a gift to me as a writer. She has no idea that after cleaning up her mess I may jot down some notes to be used later. I will have the last word.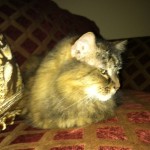 Spunky is annoyed.
Every year at Christmas my favorite thing is to decorate my tree, and it takes many hours of fussing. Vintage family ornaments, blown glass and Swarovski crystal that I've collected for decades glitter at night with the twinkling white lights. It's my nightly spot to have a glass of wine with only the tree lights on, and it is very beautiful. This year the first present under the tree, courtesy of Spunky, was a large poop, extruded perfectly on the tree skirt. Did I take a picture? You bet I did. This insult is something that in future may require photographic evidence. And if you think that diss won't be in a future novel, think again.